This may become a new trend for artists as Madonna is banning all cell phones from her upcoming tour that kicks off in October. Is it that she wants no distractions? Is that it?
Here's how it will go down: once you scan your ticket you'll be asked to drop your phone into a secured pouch and then take your seat. Anyone who is caught using their phone will be asked to leave the venue.
You'll have access to that pouch if there's an emergency call or text you absolutely need to take or make. There will be designated "Phone Use Areas."
Then after the show, you'll get your phone back.
I have tickets to one of her shows in Chicago and am nervous that I'll forget my seat number once I drop my phone into that pouch! I wonder how that will work because I bet I'm not the only one with this concern.
What do you think - are you all for this no-phones-rule?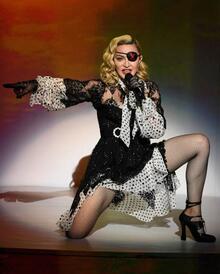 photo credit: Getty Images