Memorial Day Parades and Observances Around The Albany Area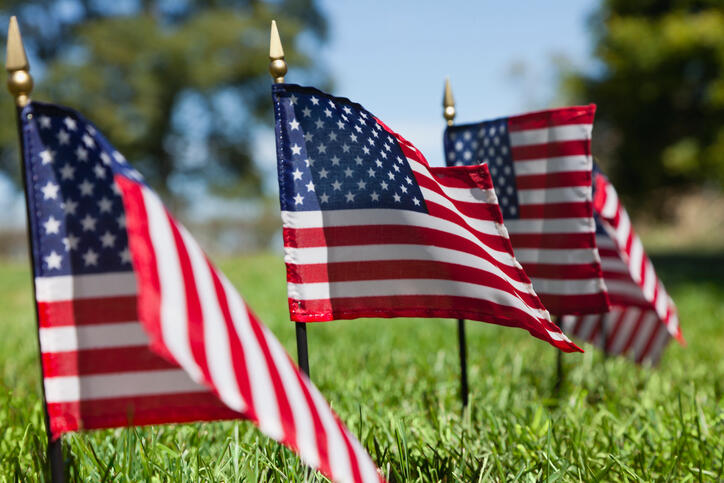 Getty Images
Scotia: 5/24
Parade 6pm
Colonie: 5/24
Memorial Day Observance at The Crossings 6pm
Niskayuna: 5/25
Niskayuna HS to hold annual Memorial Day ceremony on May 26 at 10:40 am.
The ceremony will begin promptly at 10:40 a.m. at the flagpole near the West Entrance (Balltown Road) to the High School. It is open to all members of the Niskayuna school community and the general public.
Saratoga Springs: 5/25
The City of Saratoga Springs Memorial Day Parade is scheduled for Thursday night, May 25th from 6:30-7:30pm
Location: Broadway (line up starts on North Broadway/Rock St)Time: 6pm-7:30pm (parade starts at 6:30pm – line up starts at 6pm on North Broadway)Street Closures:- Broadway (Van Dam St to Circular St) closed to all traffic during parade - streets intersecting with Broadway will be closed one block prior to Broadway - Lane reduction on CV Whitney Memorial Highway (Arterial southbound approaching Broadway) – traffic will be diverted to VanDam St during parade
For more information, contact Lt. Robert Jillson at 518-584-1800
Cohoes: 5/25
City of Albany: 5/28
This coming Sunday is the Pride Centers Annual
Memorial Day Sunday Supper BBQ, held this Sunday
332 Hudson Ave., Albany
5-9pm
FREE (Donations accepted)
City of Albany 5/29
The Albany Memorial Day Parade will begin at 10am on Central Avenue between Partridge Street and the NSY Education Building. This event is hosted by the Tri-county Council of Vietnam Era Veterans.
Memorial Day Mass
Location:

Our Lady Of Angels Cemetery
Address:

1389 Central Avenue (next to Colonie Center), Colonie, NY 12205
Times:

Starting: 10:00 AM
Admission:

Free
2017 MEMORIAL DAY PARADES IN RENSSELAER COUNTY:
May 25th: Melrose, Schaghticoke, Valley Falls, & Johnsonville Parade in Johnsonville line‐up@ Millertown Cemetery 6:30pm, step‐off @ 7pm, ends at Johnsonville Rescue Squad
May 27th: East Greenbush Parade, line‐up @ 9am @ Spare Time Bowling Alley (park @Melvin Roads AL Post) and get van to bowling alley, parade ends at Melvin Roads AL Post –step‐off @ 10am
May 28th: Rensselaer Parade, meet near Doane Stuart School parking lot (Forbes Ave. &Washington Ave.) 1pm ceremony – step‐off @ 2pm
May 29th: Town of Berlin 11am
May 29th: Sand Lake Parade, line‐up @ 9am (Averill Avenue) – step‐off @ 10am, proceed easton NY 43 to the Sand Lake Veteran's Memorial Park, where ceremony will be conducted
May 29th: Hoosick Falls Parade, line up @ 9:30am in park, step‐off @ 10amMay 29th: Castleton Parade, line‐up @ 9:30am (Boltwood Avenue), step‐off @ 10am
May 29th: Lansingburgh Parade, line‐up @ 10:15 – step‐off @ 11am (meet at 124th St. & 5th Ave.‐left side heading south)May 29h: Berlin Parade, step‐off at 11am @ Maple Avenue
May 29th: Poestenkill Parade @ 11am
May 29th: North Greenbush Parade, line‐up @ 1pm @ Town Hall – step‐off @ 1:30pm
May 29th: Nassau Parade, line‐up @ 1pm (up and down John St.) – step‐off @ 2pm, ceremony to follow at VFW Post #8162

BJ The Web Guy
With you on Saturday's from 10a-2p, and delivering you all the goods on the web 24/7!
Read more