Liam Payne Draws Fan Art With A Fan & Teases Debut Solo Album
There are so many talented fans out there who have created some amazing fan art, including fans of Liam Payne. And the UK native sees it all, because one day he wants to do something with all of these amazing drawings. He recently told iHeartRadio:
"I honestly take pictures of so many different bits of artwork, because I really want to do some cartoon, maybe in the way that merchandise works or maybe in the way there's a music video that can be done or something. I've always loved those sort of cartoons. There's an old Robbie Williams video, I think that the song's called 'Let Love Be Your Energy,' and he had this like, weird cartoon thing, going through a video game. I'd love to do something like that and I'd love to join in with a fan to do so; that would be the best thing ever. If it was actually someone who loves and appreciates my music, to make something together would be great."
In case you didn't know, Liam has been into drawing lately, and while at iHeartRadio HQ, he got to draw some fan art with one of his biggest fans. Liam Payne superfan Heather, who is from the Boston area, came down to New York City with her group of friends that she met online because of their common love for Liam, to watch him perform on Good Morning America. That is dedication.
Liam and Heather, sat down across from each other where she drew a portrait of him, and Payne drew a portrait of her. The results are kind of amazing. Watch Liam and Heather draw portraits of each other in the video above.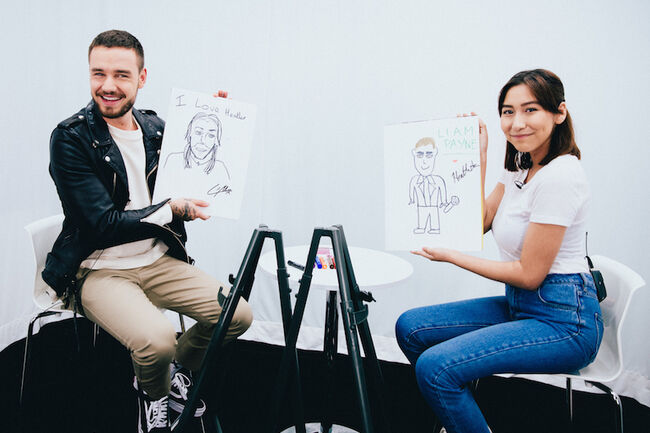 Fan art aside, Liam recently teamed up with Latin superstar J Balvin on their new collab "Familiar." The track sees Payne blending his Pop/R&B sound with the sounds of Balvin's Latin roots and language. Liam explains to iHeartRadio of the collaboration, "It's a culture. It's a big thing right now, and I really think it's here to stay because you've had 'Despacito,' which is obviously the breakout kind of song from this, and there's just hit after hit after hit. And a lot of them are coming from Mr. J Balvin, who now I have a song with, which is fantastic."
Liam explains that he met J. Balvin at the infamous Salt Bae's steakhouse, and that originally, the song was entirely English. He tells us, "The song was fully English when it started. There was no Latin or reggaeton vibe about it, or anything like that. And then, he came in and he didn't just, like, 'insert rap at the end of the song,' like most people usually do with the song. He did his whole little flavor off the top and his little sexy, 'oh, I'm J Balvin,' that kind of feel."
Payne adds of meeting Balvin for the first time, "We have a mutual friend who's a jeweler, and we went to that Salt Bae restaurant where the guy does the little, thing with his sunglasses on, and he doesn't really say much. But he's just got that vibe! He's got presence even though he's not on a stage. He's chopping up the meat like, 'yeah look at this.' He's great. So we were having a good time there, having a good laugh. We just found out we were really into similar things, we had a lot of similar views on a lot of stuff as well, being in the position that we're in. And, yeah, we just got on really well. And now he's my Colombian brother."
Fans who are waiting for Liam to drop his debut solo album, may not have to wait much longer than this fall. Liam named September as the month to look out for an album, as he teased what's next for him over the next few months (which includes spending some time with his adorable one-year-old son Bear). He explains:
"I'm definitely going to have some time with my son at some point. It's hard being busy on the road and missing him, and I don't want him to miss out on too much. I still want to work hard for him as well. But, on the main, really, I've got more songs coming out and my album's coming out in September. I think we're going to have a little bit of a different approach in the next few months, which I'm really excited about."
Liam also teased what fans can expect from his "different approach" in his new music. He tells us that he wants to make songs with more important messages in them, and does not want to be known only as "the 'Strip That Down guy.'" He says:
"I've had a couple of songs out now, but I'd like to have more messages. It's always nice as an artist to have more messages. Because for a long time it's like, you don't just want to be the guy who's like, 'oh, there's the Strip That Down guy.' That's a bit of a bore, so I obviously don't want to do that. We've had some great songs come out since, but I just like more messages, so people get to know me a little bit more, because I want to feel like I connect with people on a certain level, rather than just being like, 'oh, look that's nice,' you know, that sort of thing."